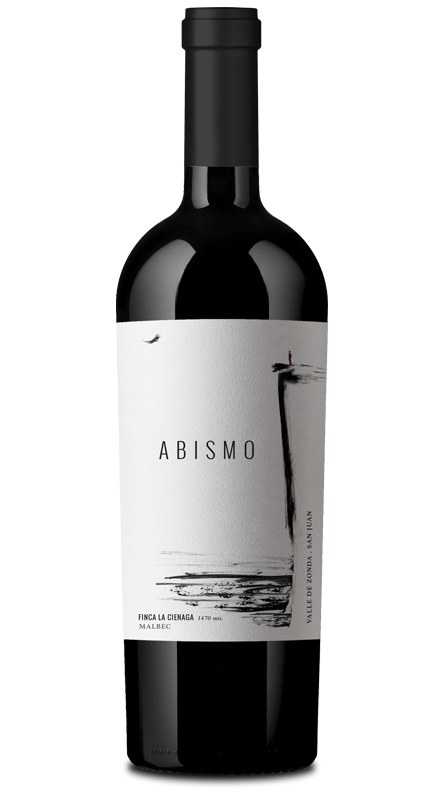 ABISMO
Finca La Ciénaga Malbec
This single vineyard Malbec expresses the unique terroir of our high altitude farm La Ciénaga at 1,430 meters above sea level. The meltwater descends from the Andes mountain range by underground routes, reaches the Precordillera and collides with a geological fault that pushes them to the surface, forming a 20-hour swamp.
Its calcareous alluvial soil and a cool altitude climate allow us to create characteristic wines due to its freshness, concentrated, intense aromas enhanced by the use of virgin wood.
TECHNICAL INFORMATION
Variety: Malbec 100%
Alcohol: 14.1%
pH: 3.8
Residual Sugar: 2.70 g / I
Acidity: 5.5 g / I
SOIL
Our Finca La Ciénaga is located in the highest area of ​​the valley at 1,430 meters above sea level. Trellised vineyards under 5 years old. Alluvial soil, very poor in organic matter, very washed, stony and calcareous.
WINEMAKING
The grapes are harvested manually in the first days of April. Traditional vinification with pre-fermentation maceration for more than 72 hours, where a lot of work was done to achieve extractions without the presence of alcohol, then sowing of LSA, of the Saccharomyses type. Fermentation at somewhat lower temperatures to maintain the purity of fruit aromas.
BREEDING
12 months in first-use French barrels of 400 liters.
NUMBER OF BOTTLES
6300 bottles
WINEMAKER
Daniel Ekkert
CONTACT
BUENOS AIRES
Cerrito 740, 9th floor (C1010AAP)
Phone: 54 11 4378-7477 (Direct)
E-mail: comercial@xumek.com.ar

SAN JUAN
Finca Valle de Zonda.
Laprida s/n (5401).
Phone: 54 264 494-5146
San Juan Province